About Fred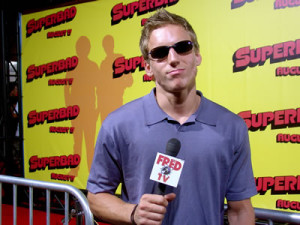 The question I am asked most often is, "How did you get started interviewing celebrities?" From the time I was 6 or 7 years-old, I was a "news junkie." While other kids my age were watching cartoons, I was watching the news magazine shows on television. I wanted to interview interesting people with interesting ideas. Sometimes I would sit at a desk with papers in front of me pretending I was a newsman. When Ii finished the major news stories, I would go on to sports and weather.  I did it all.
The news theme carried through to my Bar Mitzvah. In preparation for the celebration, I interviewed several celebrities, including Neil Sedaka, Larry King, George Foreman, Larry Holmes, Ed Begley, Jr., and Jay Leno. These interviews were put together in what became a concept video that was viewed by the guests at the party.
After my Bar Mitzvah, I continued interviewing celebrities whenever I came into contact with them, and during the spring of 1999, my parents bid on tickets to the movie premiere of Big Daddy at an auction. We won, and when my dad called to RSVP, he asked if i could cover the press line for a web site I had developed called FRED TV (www.fredtv.net). you can imagine my surprise when the response was "yes".  Since then, it has been nonstop. I have covered almost every major motion picture premiere and award event since the spring of 1999. At the present time i have in excess of 250 mini-dv tapes of my interviews.
The way celebrities responded to me on the press line was phenomenal. I was only asking questions to which I wanted to know the answers, but without even realizing it, I was also asking questions that appealed to kids and adults. These interviews needed a more sophisticated outlet, so we completely revamped and expanded our website and made it more user-friendly. The site covers movies, music, sports, and television. Every week FRED TV fans can see my updated list of Top 10 movies and music picks. The site is always changing, and has to, in order to keep people coming back for more.
If I have an evening event to cover, I will come home from school and go immediately to the internet.  I will do some research on the people who are scheduled to appear.  Premieres generally take about one hour; so when I get home I have time to do my homework and still edit the evening's event on my MAC G4. The edited version is sent to the webmaster the next day and put up on the site.
Although I have made some significant television appearances, it is my website that appears to be generating the e-mail and instant messages I get. I have received hundreds of e-mails from all over the world, including Australia, Japan, Korea, and Great Britain. Almost everyone who writes mentions the site and how much they like it. They also send me requests for interviews and I try to do my best to fulfill their requests. The communications by e-mail is one of the best parts of computer technology for me. My fans know that, even if it is only a "thank you," they will get an answer from me. having a web site affords me the international exposure that I could not get elsewhere.
my goals for the immediate future include making a digital movie and then transferring it to 35mm for a theatrical release. i believe this would be a good way to help raise funds to buy computers for seriously ill children who are affiliated with the starlight children's foundation (www.starlight.org). studies have shown that if these kids can keep their minds off their illness, keep up with their schoolwork, and are happy, there is something in their brain that triggers cells to fight against their illness.
while waiting to achieve this goal, i am currently involved with starlight and i have been taking seriously ill kids to premieres with me. this is the most gratifying and rewarding part of what i do. these kids get to meet their favorite celebrities and experience the excitement of a movie premiere. when available, pictures of the kids with the celebrities are put on my web site under the starlight children's foundation link. recently, one starlight child and her family accompanied me to a premiere that took place at disney's new california adventure theme park.
with computer technology moving as fast as it is, i have to move fast also. by the end of this year, i will be covering entertainment on a new wireless pocket pc with streaming video. i am excited about moving forward in an industry that continues to move ahead at a high rate of speed.
where do i go from here? i want to be a serious journalist. i intend to perfect my writing and reporting skills while gaining additional experience covering a variety of events, but i also understand the value of a college education and journalism school is a top priority for me. i love interviewing celebrities, but i consider it "on-the-job" training for what i will be doing after i complete my formal education. remember that i started at 12, so by the time i am ready to submit my resume for full-time employment, i will have had 10 to 15 years of experience.